Monuments by age
Bronze Age: 22
Iron Age: 12
Neolithic: 33
Paleolithic: 1
Post Roman: 3
Monuments by type
Barrow: 4
Barrow Cemetery: 3
Cairn: 7
Cave: 1
Hill Fort: 13
Menhir: 11
Quoit: 3
Settlement: 8
Stone Circle: 13
Stone Row: 5
Well: 3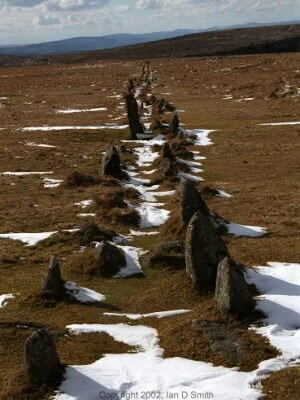 Devon as a whole may not have the headline ancient monuments such as Stonehenge or Avebury or even an Uffington White Horse or Cerne Abbas Giant. What it does have is a large number of often secluded smaller sites dating from the Mesolithic right through to the Post Roman Era and the onset of the so-called Dark Ages.
The main concentrations of ancient monuments are found on higher ground - hills and the high moorlands of Exmoor and Dartmoor. Overlooked by the casual visitor or tourist they offer a window on the past, their very seclusion making the stone circles and standing stones; the settlements and stone rows a place to relax and reflect on their purpose and the choice of their location.
Are they astronomical tools, to mark the changing of the seasons, or part of a 'ritual landscape' honouring their ancestors or, are they something else entirely? The ancient sites are found throughout the county. Click on your region above and explore one near you...
Accommodation Options
Cottages
Holiday Parks
Hotels
Caravans
Bed and Breakfasts
Youth Hostels